Share:
---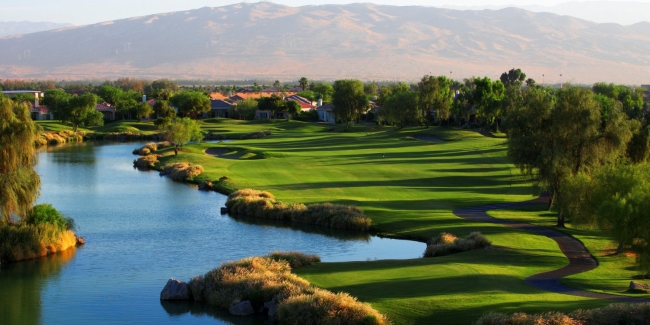 Palm Springs Golf Guide
Now Is The Time To Golf Palm Springs
By Greg Miles
Better courses...better climate...Palm Springs! This opening sentence may sound similar to a pizza chain's commercial, but it is the absolute truth about golf in greater Palm Springs. And, if you believe statements made by a couple of federal agencies, then, 'right now' is a good time to visit Palm Springs. The Federal Reserve Board decided that the economy is improving and thus just bumped up interest rates. And, the National Weather Service and NOAA believe that 'climate change' and El Nino will continue to cause extreme and uncharacteristic weather events for large portions of the country. So, if your personal finances are in order, now would be the opportune time to visit and golf greater Palm Springs, where the weather won't be an inhibiting factor.

Greater Palm Springs is comprised of nine cities located in one oasis tucked between the Santa Rosa, San Jacinto, and Little San Bernardino mountains in the desert of southern California. There are more than 100 golf courses in the greater Palm Springs area, totaling more than 2,000 scenic golf holes. From exclusive private country clubs, to upscale resort courses, to semi-private or municipal courses, right through executive length and par-3 courses, the Coachella Valley and greater Palm Springs have them all. Quite noticeable, and most impressive, to first-time visitors is that all the courses are incredibly lush and green, and, most courses contain plenty of water hazards. Greater Palm Springs sits atop an underground water table, and 'official estimates' calculate that there are decades of water available to this valley. Put aside the fears of drought and burnt out greens and fairways; it ain't so in Palm Springs.

No umbrella...no rainsuit...no worries! You can pack a bit lighter when trekking to Palm Springs. Forget the umbrella and rainsuit; the Coachella Valley boasts that the average number of days of sunshine each year is 354. Odds are that you'll miss any of the eleven days of rain here in Palm Springs.

As for suggestions for some of the courses to play, here are enough recommendations to fill your week's golf excursion to Palm Springs.

To start with, the Westin Mission Hills Resort (Rancho Mirage) has two very fine courses; its Pete Dye course has its pro shop and number one tee merely steps from the hotel registration desk -- check in and quickly tee off. This Pete Dye course combines the proper amount of fun and challenge, and is a lot more 'golfer friendly' than most of his designs. One mile away, just across the street, is the Westin Mission Hills Gary Player course. Resort guests can take a complimentary shuttle van to its pro shop. The Gary Player course is also 'golfer friendly' with berms and mounds which help to direct crooked shots back toward the fairways; but still plenty of challenge here.

Another golf facility with two fine courses is Desert Willow Golf Resort (Palm Desert). Desert Willow prides itself as maintaining 36-holes of championship golf with conditioning and service levels typically associated with exclusive private clubs. Its Firecliff course tests golfers' skills with plenty of natural desert hazards and a myriad of water hazards. The Mountain View course is 'smoother and a bit more relaxed' -- but not so, if shots leave the fairway or find the sculpted valleys near the fairway edges. Both courses are top choices of Golf Digest, Golf Week, and Desert Golfer Magazine.

The 'western home of golf in America' is PGA-West (La Quinta). PGA-West contains five 18-hole championship courses. The most famous, and talked-about, and cussed-about is the beastly TPC-Stadium course designed by Pete Dye. For 2016, the Career Builder Challenge tournament will test the pros and amateurs on the Stadium Course. For visitors to the Coachella Valley this course is a 'must play' or, more aptly, a 'must try'. Be prepared to see a huge number of evil hazards on the Stadium Course, but also be forewarned about a number of hidden trouble spots. Any golfer bettering their handicap here deserves a beverage at its terrific bar and grill.

Superlatives such as 'spectacular', 'awesome', and 'stunning' are fitting descriptions for the recently remodeled Indian Wells Golf Resort (Indian Wells). This updated version of IWGR is a testament to what $97 million can accomplish. Palm trees, lakes, flowing streams, waterfalls, wildflowers, and a truly great routing of golf holes make the IW-Celebrity Course a golfing utopia. Add the backdrop of the Santa Rosa Mountains, and one or two double-bogeys will matter only slightly. IW's Vue Grille & Bar is top-notch; outdoor seating overlooks the lighted putting course and the Celebrity Course's #10 tee, and indoors, tables and booths are surrounded by dozens of flatscreen TV's.

The Classic Club (Palm Desert) is a Palmer-designed facility with plenty of bells and whistles. The 18-hole course is rolling terrain with panoramic views of the Santa Rosa, San Jacinto, and Chocolate Mountains; additionally, the course contains thirty acres of water features, and an abundance of pine, olive, and pepperwood trees. Throw in 14 bridges, a 63,000 square foot Tuscan style clubhouse, a huge practice facility, and a full-service pro shop and you have an award winning venue. Six sets of tees can accommodate all skill levels.

If you're looking for a solid municipal facility, then head on over to Tahquitz Creek Golf Resort (Palm Springs). Tahquitz Creek is owned by the city of Palm Springs and offers two distinct 18-hole layouts. A traditional theme is the mainstay of the William Bell designed Legend Course; tree-lined fairways and undulating greens are its features. Uniquely different is Tahquitz Creek's other routing, the Resort Course, designed by Ted Robinson which combines rolling terrain with desert landscaping, and waterscapes galore. Both courses are operated out of the same clubhouse / pro shop, so golfers often play an extra round on their visit to Tahquitz Creek. Take a hint from the locals -- make it a double round day, either re-play the same course or tackle 'em both.

Additional information about Palm Springs can be found at www.visitgreaterpalmsprings.com.

Revised: 01/06/2016 - Article Viewed 19,672 Times
Share Comment
Written By: Greg Miles

Greg Miles is Senior Writer for GolfChicago! Magazine and resides in Lake County, IL. He has been a golf writer for 21 years, and a member of the Golf Writers Association of America for the past 17 years. A graduate of the University of Notre Dame and Marquette University, he has played more than 5,500 rounds of golf in his life at 462 different courses; enjoys collecting golf memorabilia and is a Golf Nut Society member.
Like Us For Local News and Specials