Share:
---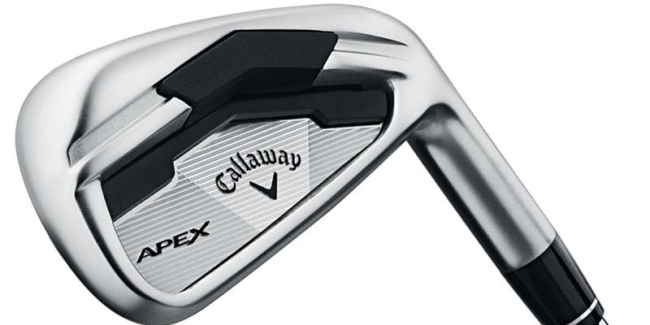 Callaway Apex Irons
Doing the Name Justice
By David Theoret
If you were playing golf back in the 70's - or even the early 80's, I have no doubt that you encountered Ben Hogan Apex irons at some point. Over their 30+ year run, no less than a dozen versions were introduced by the Hogan Company but one thing about these irons remained constant - these classic, forged blades were among the best better-player irons on the market.

Back in 2003 Callaway Golf announced its intention to purchase Hogan and in 2012, sold the apparel side of the business to Perry Ellis. One thing Callaway retained was the Apex name; a name that was applied to their latest entry into the forged iron market. And now Callaway has resurrected the Apex name for its latest sets of irons, Apex and Apex Pro which debuted at retail stores in December 2013. Both sets are forged from carbon steel, but that's about all they have in common.

Even though "distance irons" were introduced into the marketplace by PGA Tour players in the late 1980's, only two choices come into play when it comes to choosing irons: Do you want to play forged irons that offer more consistency and feel, or do you want to play oversized cast irons that hit the ball higher and farther, but didn't feel quite as good at impact?

Callaway's new Apex irons attempt to answer both questions with one product. Callaway figures to have a heads up on the competition because of its experience with its specially processed and treated 455 Carpenter steel faces. After all, Callaway has been down this road before; remember their Diablo Forged irons? Didn't think so.

Callaway has gained a new level of expertise on how to get the most from 455 Carpenter Steel. With the Apex irons, Callaway welded 455 Carpenter steel faces to the irons' 1020 carbon steel frames. Each iron then goes through a 40-minute milling process to reposition weight low and deep in the iron head, as well as around the perimeter. Rubber material has been added to the cavity, along with the Apex's badging which further dampens vibration. This helps replicate the one-piece forged iron feel that many golfers prefer.

The long irons (3, 4 and 5) feature tungsten weights in the sole which further lowers the center of gravity on the irons and help golfers launch the ball higher. The weights are not needed in the rest of the irons because Callaway engineers were able to place the CG where they wanted without using tungsten. The Apex irons also produce 2-to-3 mph more ball speed than the Diablo Forged irons, which means 4 to 6 yards of extra distance.

Although the lofts of the Apex irons are stronger than those of traditional forged irons; the flight trajectory is also higher, thanks to the cavity-back design and the ultra-thin 455 Carpenter steel. This is the same material used in Callaway's X Hot fairway woods, which have gained a reputation for their length. Also of note are Callaway's wide-spaced 30-degree grooves which maximizes spin for golfers from the rough. Combine that with a "rolled leading edge" sole grind, and players will find the Apex irons remarkably easy to hit from tight lies.

Callaway's desire to create a forged distance iron seems to have come to fruition. I found the Apex irons very easy to hit right out of the box. The True Temper XP95 shafts felt a little lighter than the KBS shafts I am used to and took a little getting used to. Once I got the feel, I found my shots launched considerably higher, especially in the long irons. Shots were easy to shape too, both fades and draws, due in part to the slight offset.

The Apex irons seemed to produce a more penetrating ball flight, something I have found lacking in a number of newer irons. Getting the club on the ball in the rough was easier than I expected; spinning it from the rough was no great chore either. Mishit shots were not penalized as severely as I have seen with other irons.

The Apex irons weren't designed to replace anything in the current Callaway-up. What they are designed to do is appeal to a broad range of golfers seeking the best forged players' irons and cast game-improvement sticks. What should also appeal to better golfers is the medium blade lengths and top lines, as well as the modest amount of offset. The Apex Pro version, which features a slightly smaller head, will be available later in January and is expected to be Callaway's most popular iron on Tour in 2014.

The Apex irons are available with True Temper's XP95 steel shafts (R and S flexes), and will cost you an MSRP of $1099. For $1299 you can have them fitted with UST Mamiya's Recoil graphite shafts, available in either UST's 660 (regular flex) and 680 (stiff flex) models. You can see/test the Apex irons at all major golf outlets or, for more information, visit the website at www.callawaygolf.com.

Revised: 02/27/2014 - Article Viewed 21,123 Times
Share Comment
Written By: David Theoret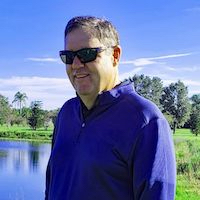 David Theoret has been in the golf and golf travel industry for over 10 years, primarily selling online advertising. For the past seven years, he has also been a golf writer, reviewing golf courses, resorts, destinations, equipment, golf apparel, and training aids - the latter of which never seems to help. David's articles and reviews have been posted on many golf travel and equipment websites.

Growing up in Southwestern Ontario, Canada, it was naturally assumed he would play hockey. Beginning at the age of 3 and continuing into his late 30's, he did just that. However, after one too many pucks to the head, he realized that golf was a lot easier on the body (whoever said hockey players were slow) and took the game up.

After moving to Florida and accepting a position with TravelGolf Media (now part of GolfNow) his love for the game grew exponentially. Most Saturdays you will find him on a course somewhere in Florida or on the practice range reinforcing his bad habits. David plays to a 10 handicap - unless there is money involved in which case it goes considerably higher. He currently resides in Lakeland, FL with his wife Belinda and their two "kids", Madyson and Molly.

Like Us For Local News and Specials