Share:
---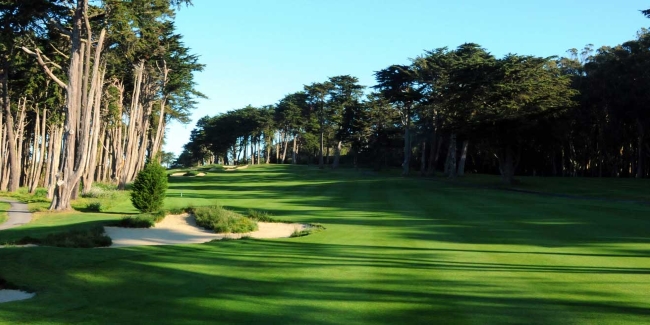 Presidio Golf Course
A Pacific Pearl
By Mike May
When people think about California's greatest golf courses, some layouts immediately spring to mind. They include Pebble Beach, Spyglass Hill, The Olympic Club, PGA West, Riviera, Torrey Pines (South), and La Costa Resort & Spa, but one course that is a great candidate for this exclusive list is the Presidio Golf Course (www.presidiogolf.com). Based in San Francisco, the Presidio Golf Course is a thorough test of one's golf skills - from beginning to end. Opened in 1895, playing a round of golf at the Presidio is like 'walking through the pages of history.' As Presidio's scorecard says, this course is "home to a unique golfing legacy forged by the giants of history and golf's greatest legends." The list of household names that have walked these fairways include two former U.S. Presidents (Teddy Roosevelt and Dwight Eisenhower), a pair of Baseball Hall of Famers (Babe Ruth and Joe DiMaggio), two of Hollywood's finest (Bob Hope and Bing Crosby), a famous cartoonist (Charles Schultz), and a few of golf's greatest legends (Byron Nelson, Ben Hogan, Gene Sarazen, and Arnold Palmer). It was also the site of a PGA Tour event, the 1956 Western Open, won by Mike Fetchik.

For the most part, when you play a round of golf at the Presidio Golf Course, you will be tested and entertained from the tee shot on the 1st hole (a 362-yard dogleg par four) to the last putt on the 18th green (a straightaway, slightly downhill 516-yard par five). What's also special about the Presidio - a par 72 design -- is that it opens with a birdie hole and closes with a birdie hole. In between are 16 holes where birdies can be made, but so can every other kind of score. It's a course where you must focus on the demands of every shot as if each one is an isolated incident. Very few golf courses give golfers such a wide variety of shotmaking opportunities as the Presidio does. At the Presidio, you can't get too focused on what just happened. Instead, you must keep your mind occupied with the upcoming shot and what is expected to make that a success. The Presidio does not have any conventional holes. Nearly every hole presents an uphill or downhill tee shot and many of those holes are right-to-left or left-to-right doglegs! Did I mention that side hill/downhill lies are common, too, at the Presidio?

According to Rob Dugan, the head professional at the Presidio Golf Course, prior to 1994, there wasn't much public access to the course except by members' guests and the course's employees who were permitted to invite guests for golf from time to time. For the most part, the main members of the course were military personnel, most of whom were based and working at the Presidio military installation.

This course is located within the old Presidio military installation, but in 1994, the U.S. Army decommissioned the Presidio and transferred control of this golf course to the National Park Service. In fact, the Presidio GC is one of the few golf courses in the U.S. which is located in a national park. In this case, the Presidio sits within the Golden Gate National Recreation Area, just a hop, skip, and jump from the historic Golden Gate Bridge. When you look at the course from a bird's-eye perspective, the lush, tree-lined fairways -- dotted with strategically placed sand traps -- look both inviting and challenging. For a golf enthusiast looking to create a golfing memory that will last a lifetime and create an ever-present urge to return for another round, the Presidio Golf Course is just the ticket!

One more interesting aspect of the Presidio Golf Course is the design of the tee markers. These tee markers - which are painted blue, white or red - are actually small masses of salvaged cast iron metal chains which were used to tie ships to the docks at the now-closed U.S. Army base here at the Presidio.
It is worth noting that the March 21, 2014 edition of Golfweek listed the Presidio GC as the 24th best golf course in the state of California among daily-fee layouts and courses which are accessible through resorts. Among classic courses, which are those opened before 1960, Golfweek ranks the Presidio GC as the 7th best course in California!

The Presidio is a full-service club with first-class service and amenities. Rental clubs are available if you need them. A full practice facility - featuring a driving range, practice putting green, and chipping & pitching green - is also available to members and visitors alike. Of course, if you come late in the day to practice or play, don't forget a light jacket or a sweater. After all, this is San Francisco!

At the end of your round, I suggest that you head toward the Presidio's own '19th hole,' otherwise known as The Presidio Café. The setting is historic, the food is good, the surroundings are pleasant, and the prices are fair. The eatery opens at 7:00 am and its breakfast fare is highly acclaimed. The pancakes and scrambled eggs are delicious!

After your great and memorable round at the Presidio, you can take your scorecard and have it preserved in a special, customized Presidio-specific frame which is great to have at home in the den or hanging on the wall at the office. It will be quite the conversation piece. The details are available in the pro shop.

If this short story has tempted your 'golfing' taste buds for a round at the Presidio, then take the next step by getting a quick bird's-eye glimpse of the course with the 'virtual flyover.' Then, check out the course's photo gallery, which will seal the deal for you and your buddies. It's a golfing delight and a golfer's paradise where no two shots are alike!

Go play the Presidio and enjoy this golfing paradise. I certainly did and will do so again! The pro shop - 415.561.4653 - is waiting for your call and ready to book your tee time. Don't delay!

Revised: 02/09/2016 - Article Viewed 19,290 Times - View Golf Course Profile
Share Comment
Written By: Mike May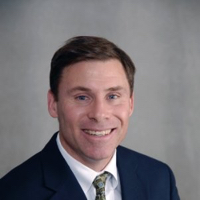 Mike May is a Wellington, Florida-based freelance golf and sportswriter, who is also a 25+ year public relations and communications executive in the sporting goods industry. He is also a veteran high school soccer official, an experienced high school basketball coach, an avid athlete, a part-time personal trainer, and a passionate golfer who is forever in pursuit of Old Man Par. He is a member of the Golf Writers Association of America.
Like Us For Local News and Specials