Share:
---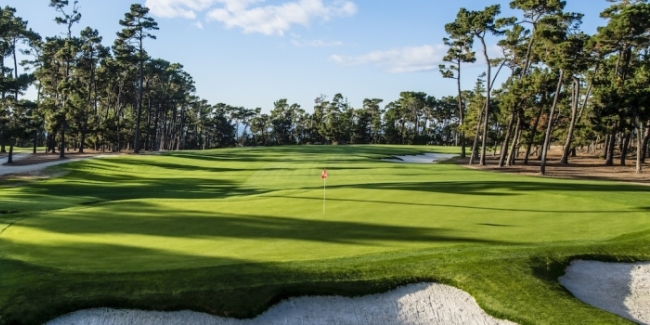 Poppy Hills Golf Course Begins Countdown To April 4 Opening
Newest Design in Pebble Beach Creates "Firm, Fast & Fun" Experience In The Forest

The final countdown has begun for golf's newest destination inside Pebble Beach's Del Monte Forest - the unveiling of the reinvented Poppy Hills Golf Course, which is set for its first day of public play on April 4.
And golfers can be confident they will not be "roughed up" by the new golf course - because there is no rough.
Poppy Hills will incorporate just one cut of grass throughout the golf course - a fairway height that runs from the tee boxes to the green. The short turf is used as a defense, as well as for unique opportunities to score. The new design by Robert Trent Jones Golf Course Architects (RTJ II) embraces play both on the ground and through the air, rewarding the imaginative and strategic shot-maker.

"We are fast approaching the start of a new era for Poppy Hills," said Brad Shupe, general manager of the golf course. "What originally began as a master plan to merely modernize irrigation and drainage has led to an extensive and incredible renovation. It's going to be a firm, fast, fun experience in the forest."
Far more open and spacious by design, the new Poppy Hills maintains its forest character, created by the dramatic surroundings of towering Monterey Pines found in Pebble Beach. The renovation includes softened doglegs that blend smoothly into the natural elevation changes of the landscape.

The fairways have been thoroughly sand capped to promote firm and fast conditions year-round, while all 18 greens were redesigned, rebuilt, and reseeded with bentgrasses. Natural sandy waste areas have been introduced along the forest floor. Not only do they add strategic value to a championship test, the waste areas play an integral role in reducing the amount of irrigated turf from 80 to 60 acres - making Poppy Hills environmentally friendly, as well as golfer friendly.

Poppy Hills will play as a par 71, based on the 12th hole converting from a tight dogleg par 5 to a straightaway par 4 with a spectacular view of the Monterey Bay and Santa Cruz Mountains. The 11th hole remains a par 3, but with a completely new design, as it now plays as a short shot to a green tucked into the forest.

The renovation also includes a remodeled golf shop, restaurant and practice facilities. For additional information access the renovation web site at www.poppyhillsgolf.com.

Posted January 7, 2014 || Viewed 2,015 times
Share Comment
Like Us For Local News and Specials